Looking back at the 2011 Festival for yesterday's picture brought back so many memories that we've decided to focus on shots from past Festivals for the next few days, so get ready for a few more blasts from the past!  To kick it off, here's a photo from the 2008 Festival.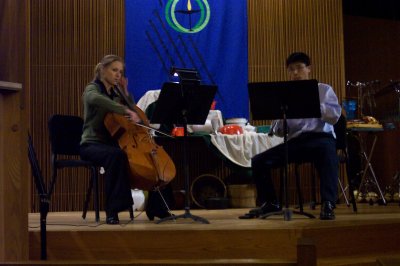 The Hartford Sound Alliance – members Katie Kennedy and Charles Huang shown in the picture above – was our featured ensemble in 2008.  They performed a number of works by Twentieth Century composers on their concert, including Ruth Crawford Seeger's Diaphonic Suite No. 4 for Oboe and Cello.
Ruth Crawford began her composing career as a teenager and eventually became the first woman to win a Guggenheim Fellowship in 1930, the year that saw the composition of her four Diaphonic Suites.  Two years later, Crawford married her teacher Charles Seeger and took a twenty year hiatus from composing, choosing instead to focus on the study of American folk music.  She returned to composing in 1952, but her career was cut short by cancer.  Despite the brevity of her career, Crawford Seeger remains an important figure in American music known for her "ultra-modern" style.
For a detailed study of Crawford Seeger's music, check out Joseph N. Straus's The Music of Ruth Crawford Seeger.