Want to support the Women Composers Festival of Hartford?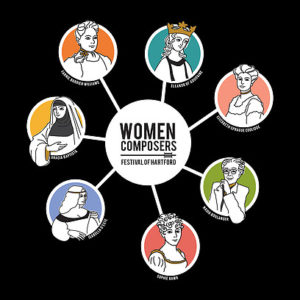 When you donate to the Women Composers Festival of Hartford, your money directly supports the promotion and performance of women's music.
Whether you recently learned of our festival or have been an ardent supporter for years, we would like to acknowledge your role in making past festivals a success. WCFH continually highlights music of historical and current women composers through concerts, lectures, forums, and other outreach efforts across the Greater Hartford area, garnering recognition from institutions such as the International Alliance for Women in Music as a champion of both new music and women composers
Donate today!
Or mail your donation to:
WOMEN COMPOSERS FESTIVAL OF HARTFORD
PO Box 370632
West Hartford, CT 06137
Donors' names will be listed in our programs (unless otherwise indicated by the donor).
Donation Levels

$1 – $50 – Fannie Barrier Williams status
Fannie Barrier Williams was the director of the arts and music department of the Prudence Crandall Study Club, and organized Chicago's elite African-American community. When you donate up to $50 to WCFH, you help us publicize WCFH and the Festival, through posters, photography, videography, and printed programs.

$50 – $100 – Elizabeth Sprague Coolidge status
Elizabeth Sprague Coolidge was an American composer, pianist, and patron of music. When you donate $50 – $100 to WCFH, you help make the Festival happen. To make the Festival a success for all involved, WCFH secures instruments and recording equipment, and coordinates will various venues and organizations. With your donation, the logistics are made possible.
$100 – $500 – Nadia Boulanger status
Nadia Boulanger was a legendary 20th Century composer, conductor, and teacher. When you donate $100 – $500 you can help to co-sponsor our student composer workshop, and the opportunity for emerging composers to work on their pieces with mentor composer Jessica Rudman, and work directly with the Ensemble-in-Residence.
$500 – Sophie Bawr status
Sophie Bawr wrote the first account of the history of women in music in 1823. When you donate $500 to WCFH you can so-sponsor our Keynote Speaker, who will give a presentation at the Women Composers Forum during the Festival.
$1,000 – Florence Price status
Florence Price was the first African American woman to have her composition performed by a major symphony. When you donate $1000 to WCFH, you can co-sponsor our Ensemble-in-Residence for the Festival.

$5,000 – Isabella D'Este status

Isabella D'Este was a 15th Century Italian princess whose court commissioned Monteverdi's Orfeo. When you donate $5,000 to WCFH, you can be a co-commissioner of a new work by our Composer-in-Residence, written for our Ensemble-in-Residence, to be premiered at the Festival.