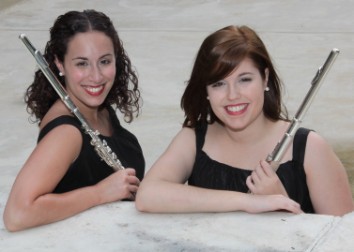 The Women Composers Festival of Hartford is pleased to announce the Dahlia Flute Duo as their guest ensemble for its 2013 festival. A celebration of the diversity of women's music, the festival is scheduled March 6-10 at institutions across the Greater Hartford area, featuring the Baltimore-based duo in multiple programs, including an evening of flute music on Friday, March 8.
Praised as a "truly a great chamber music experience" and "consummate musicians," the Dahlia Flute Duo is sought after as performers, lecturers, and clinicians. Flute, alto flute, and piccolo virtuosi, the Duo has two world premieres to their name and counting. Mary Matthews and Melissa Wertheimer formed the Duo at the Peabody Institute of the Johns Hopkins University.
 The ensemble has been featured at the Avalon Theatre, Mannes's International Festival for Contemporary Performance, Artscape, the Academy Art Museum Series, the Baldwin-Wallace College Conservatory, the Peabody Spotlight Series, the Harmony Hall Series, the Baltimore Book Festival, the Candlelight Concert Society Outreach Series, the Walters Art Museum, and First Night Dover. Additional performances include publicity events held by Baltimore's Wide Angle Youth Media and the Baltimore Office of Promotion and the Arts. For more information, be sure to check out www.dahliafluteduo.com.
The Women Composers Festival of Hartford has, for the last twelve years, provided an educational and entertaining platform for the promotion of women's music. Recognized as a champion of women's music by institutions such as Meet the Composer, the International Alliance for Women in Music, and the Women's Education and Leadership Fund, the festival's goals include informing audiences through performances of music that has been and still is being written by women in an effort to broaden people's understanding of musical literature and women's contributions to this field.