Saturday, March 12 | 9 am – 9 pm
Charter Oak Cultural Center
21 Charter Oak Avenue
Hartford, CT 06106
Purchase Tickets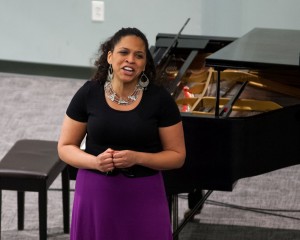 The Women Composers Festival of Hartford presents a Music Marathon, featuring 12 full hours of music by historic and living women composers. The day will begin at 9:00am with a performance by harp duo Lilac 94, and will conclude with a concert by ensemble-in-residence Nautilus Brass Quintet, who will perform the winning compositions from our score call, as well as a newly commissioned world premiere by composer-in-residence Jessica Meyer. Other highlights include a piece for guitar quartet by 2015 WCFH composer-in-residence Lisa Coons, an experiential exhibit of video game music, and a keynote address by musicologist Dr. Liane Curtis.  A full schedule is given below (please note start times are approximate due to the continuous nature of the event).
Our marathon stands in stark opposition to the practice by high-level classical music organizations to present entire concert seasons without including a single woman composer. In 2016, there are no excuses to not include works by composers with a variety of backgrounds, genders, and ages.
Schedule

9:00 am – Lilac 94 Harp Duo presents works by Wei Dai, Rebecca Larkin, Naomi Lewis, and Caroline Lizotte
9:30 am – Amanda Johnston and Jessica McCormack present songs by Stella terHart
9:45 am – The Offing (Nadine Dyskant-Miller, Christine Hedden, Annika K. Socolofsky) presents original works composed by the ensemble members
10:30 am – Julia Mortyakova presents "A Celebration of Women Composers through History", featuring piano works by Elisabeth Jacquet de la Guerre, Clara Schumann, Cecile Chaminade, and Olga Harris
11:30 am – Rachael Lansang and Nina Phillips present "Reinterpreting the 'Drowned Woman': Feminist Readings of Isabelle Aboulker's Femmes en Fables"
12:00 pm – Katherine McLellan and friends perform musical theatre compositions by women
12:35 pm – Music by Jessica Rudman
1:10 pm – Interactive Session on Video Game Music
2:00 pm – Becky Brown performs Hold Still for live art and electronics
2:10 pm – Nora Lee Garcia performs Sun Mi Ro's Three Invocations for solo flute
2:20 pm – New Muse Piano Duo (Paola Savvidou and Jonathan Kuuskoski) perform music by Emily Doolittle and Stacy Barelos
2:40 pm – WCF Board Members perform vocal works by Gala Flagello and Maggie Weisensel
3:00 pm – vocalist Alika Hope presents "Ray of Hope"
3:30 pm – WCF Board Members perform vocal music by Ethel Smyth
4:05 pm – Jeri-Mae Astolfi performs solo piano works by Betty Wishart
4:40 pm – Sacha Peiser performs Lonh by Kaija Saariaho
5:00 pm – forty/sixty String Trio (Angela Lamb, Olivia Harris, and Robin Rhodes) perform new works for violin, cello, and bass
6:00 pm – Carol Cubberley performs Amanda Maier's violin sonata with pianist Andy Costello, Amy Beach's Romance with pianist Sandy Lin, and Joan Tower's Platinum Spirals (1976) for solo violin
6:45 pm –  Keynote Address by Liane Curtis
7:30 pm – Premiere of 2015 Composer-in-Residence Lisa Coons's commission for guitar quartet, A Growing Absence
7:45 pm – Nautilus Brass Quintet performs Joan Tower, Marti Epstein, Victoria Bond, Chia-Yu Hsu, Jessica A. Hunt, and a new commission by 2016 Composer-in-Residence Jessica Meyer
* Please Note: Start times of individual sets are approximate! *