The fifteenth annual festival, scheduled for Wednesday, March 4 – Sunday, March 8 at the historic Charter Oak Cultural Center, features guest composer Lisa Coons. The festival includes performances of Dr. Coons' music, in addition to an international selection of historical and living women composers. Iktus Percussion join the festival as featured guest artists, in addition to New England Guitar Quartet.
2015 Guest Composer: Lisa Renée Coons
Lisa Renée Coons is a composer and sound artist with a special affinity to noise composition, collaboration, and experimentation.  She is dedicated to progressive art and focuses on partnerships with other artists and musicians as a means of developing innovative new works.  Presently an assistant professor of music composition at Western Michigan University, Lisa Renée received her PhD in Composition from Princeton University, her Master's from SUNY Stony Brook and studied at the University of Missouri-Kansas City during her undergraduate degree.  Before joining WMU she was a Jackie McLean Fellow and visiting professor at the Hartt School in the University of Hartford.  Her portfolio includes music for acoustic and electronic instruments, turntables, traditional ensembles, and her own welded percussion sculptures.  She has received awards and support from the Other Minds Festival (a 2011 Composer Fellowship), ASCAP (Morton Gould Young Composer Award 2005/Honorable Mention 2009), and Meet the Composer, among others.  Recent commissions include an evening-length work for The International Contemporary Ensemble (ICE) and pieces for The California E.A.R. Unit, The Machine Project for the Hammer Museum of Los Angeles, the Violin Futura Project, and Dither Electric Guitar Quartet.  Lisa Renée is a founding member of the bicoastal composers collective called, simply, The Collected (thecollectedmusic.org).Information on her music and a complete bio can be found at www.lisarcoons.com.
2015 Guest Artists: Iktus Percussion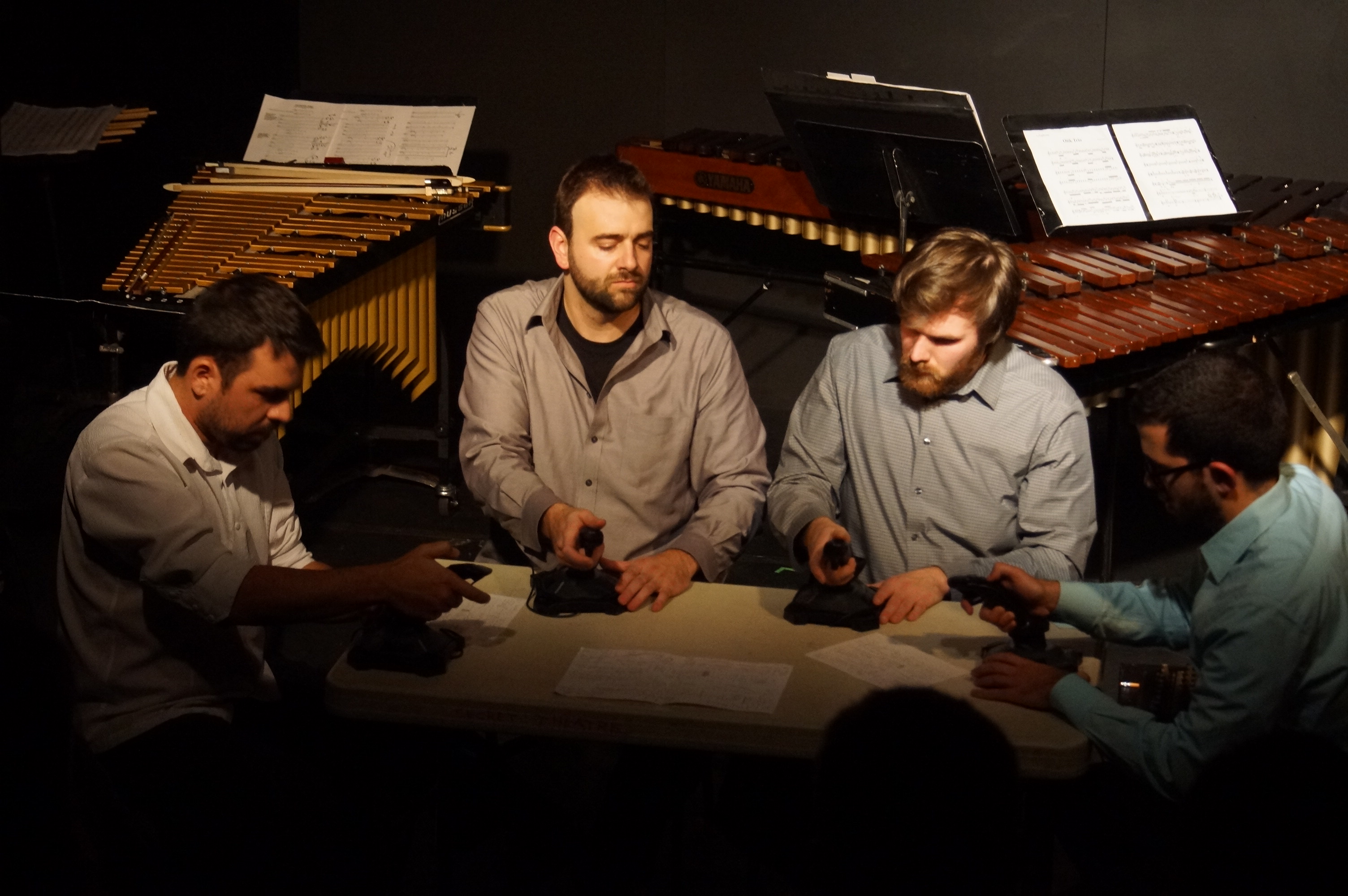 Based in New York City, Iktus Percussion is an ambitious, dynamic young ensemble committed to expanding the boundaries of the percussion genre. Iktus is a collective-based operation, featuring an array of industrious and multi-talented percussionists with Chris Graham, Justin Wolf, Josh Perry, and Piero Guimaraes at the core. As a group with strong ties to the local artistic community, Iktus is dedicated to collaboration with emerging artists, having commissioned over fifty new works for percussion from such composers as Angélica Negrón, Aaron Siegel, Lisa R. Coons, Jenny Olivia Johnson, Stefan Weisman, and Billy Martin (of Medeski, Martin and Wood), among others.
With an exciting and diverse range of repertoire, Iktus has performed at such venues and festivals as the Bang on A Can Marathon, Galapagos Arts Space, Le Poisson Rouge, Roulette, Issue Project Room, Symphony Space, The Tank, and Trinity Church. Iktus has been appointed to several residencies including SUNY Purchase College (where they performed Laura Kaminsky's Terra Terribilis, a concerto for percussion quartet and orchestra), CUNY Brooklyn College, and the Pre-College Music Program at Stony Brook University. As performer-educators, Iktus has also performed concerts and hosted master classes at the Eastman School of Music, Oberlin College, University of Wisconsin-Madison, University of Michigan, University of Western Michigan, Grand Valley State University, Michigan State University, William Paterson University, Western Washington University, University of Washington, and Onondaga Community College, as well as various public schools. For more details, visit www.iktuspercussion.com.
Additional Artists: New England Guitar Quartet
The New England Guitar Quartet Has been stunning audiences since their debut performance at The Hartford Women's Composers Festival in 2012 with their dynamic virtuosity, inventive programming and artistic interpretations. The quartet delivers an eclectic mixture of fiery latin american rhythms, exotic modalities and complex baroque counterpoint in their performances. Their concert programs bring to life both historically significant repertoire as well as newly composed works for the guitar. For more details, visit www.neguitarquartet.com.