Women Composers Festival of Hartford
2021 Virtual Festival
Thank you so much for choosing to enjoy the 2021 Virtual Women Composers Festival of Hartford on March 19th and 20th. All events are free and will be available on this page. The Craft Ensemble Concert requires registration via this link.
Skip to…
Music Marathon | Scholarly Symposium
Student Composition Reading
Festival Profiles | The Craft Ensemble Concert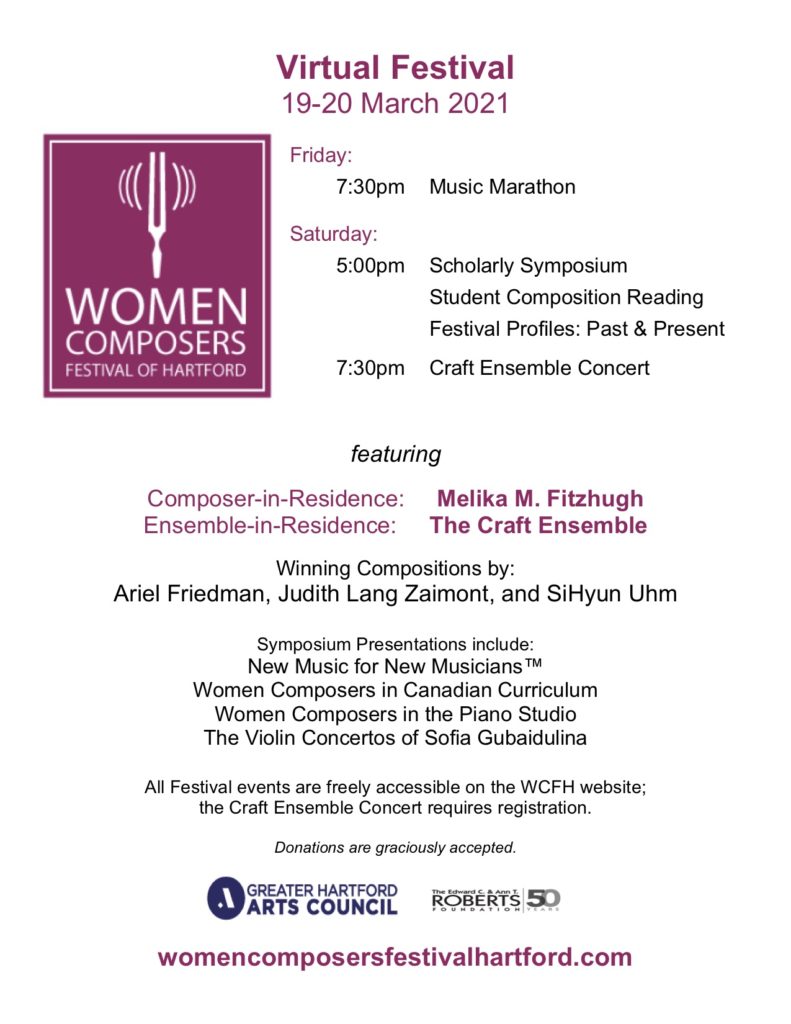 This is the first virtual Festival in our 20-year history, and through technology, we can reach even more people throughout the globe who love music and who want to support music created by women.
We recognize that so many of you, like the musicians and composers you will meet during this Festival, have suffered financial hardship as a result of the global pandemic that has consumed our lives for the past year. For this reason, for the first time, we opted to make this Festival free and accessible to all.
For those who are financially able to do so, we encourage you to make a tax-deductible donation, in lieu of a ticket. The suggested minimum donation is $25.00, but no amount is too small – or too large – and is deeply appreciated. Your donations help us to continue our mission to showcase the work of women composers throughout the world.
2021 Virtual Festival Events:
(All times are in EDT. Each video will become playable at the scheduled event time. Unless otherwise indicated, videos will be available through the end of March, Women's History Month.)
Festival Welcome and Music Marathon – Friday, March 19th, 7:30pm
featuring performances by Olivia Adele Adams, Katey J. Halbert, The Whistling Hens, Manaka Matsumoto, Julia Mortyakova, Jihwon Na, and Yongyun Zhang
Scholarly Symposium – Saturday, March 20th, 5pm
featuring presentations by Patricia R. Abreu, Olivia Adele Adams, Janet Jacobson, and Kathryn Woodard
Student Composition Reading – Saturday, March 20th, 5pm
featuring The Craft Ensemble reading works by Leigh Anne Robichaux, Sarah Marze, and Ky Nam Nguyen, introduced by Jessica Rudman
This video was available until 7:30pm EDT on Saturday, March 20th, 2021.
Festival Profiles: Past and Present – Saturday, March 20th, 5pm
featuring Composers-in Residence, Andrea Clearfield (2014), Tawnie Olson (2018), Judith Shatin (2012), and Melika M. Fitzhugh (2021)
The Craft Ensemble Concert – Saturday, March 20th, 7:30pm
featuring Winning Compositions by Ariel Friedman, Judith Lang Zaimont, and SiHyun Uhm, the premiere of Composer-In-Residence Melika M. Fitzhugh's "dust motes floating in light," and additional works by Elizabeth Maconchy and Jessie Montgomery
The Craft Ensemble requires registration via this link. Registered viewers will be emailed a link to view the concert on Saturday.
Please consider subscribing to our YouTube channel and liking our Facebook and Instagram pages to enjoy future content celebrating the works and accomplishments of past, present, and future women composers.